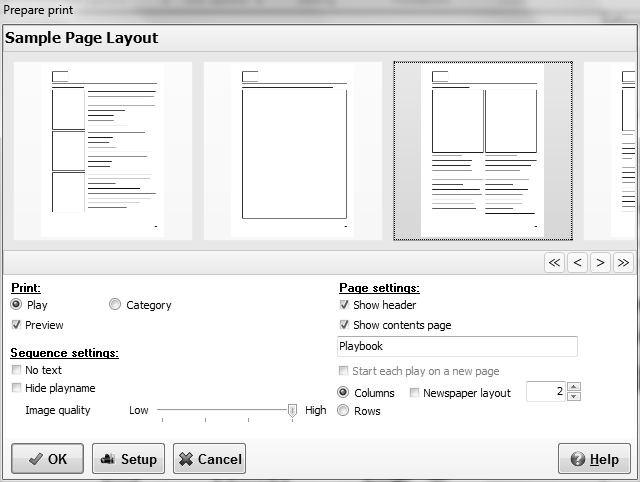 To print a play or a category go to the File menu and choose Print.
Print:
Before printing you can select between printing the current play or the current category.
Selecting the preview option will give you a preview of the print, printing from the preview window is the same as printing with the image quality at its lowest.
Page Settings:
You can choose to print a header with a logo.The logo can be changed on the export tab of the options menu option.
When you print a category you can add a contents page.
When you want to change the page header text on the content page from Playbook to for example the name of the team you coach you can alter the Header text.
Each play can be started on a new page when printing a category.
In column mode you can choose to print in newspaper layout.
You can choose to print in rows or a number of columns. To print 1 sketch on a page choose columns, and set the columns number to 1.
Sequence settings:
Check the No text box if you don't want to print any text.
And check the Hide play name header if you don't want to print those.
Finally you can alter the image quality of the sketch, for a normal printer the second position gives good results.
Pressing the Setup button will allow you to change or setup your printer.
Pressing the Ok button will start the printing or show the preview, you can follow the progress with the progress bar.
You can suppress a sequence from being printed by checking the animation only checkbox on the edit drawing tab or the edit text tab.