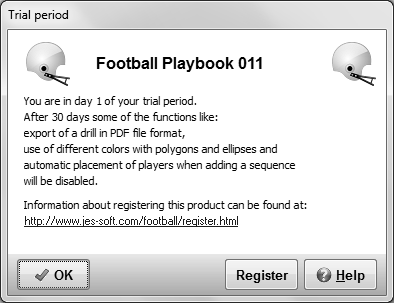 After a 30-day trial period some functions of the playbook program will only be available for registered users.
The registered version of Football Playbook has the following extras:
Creation and export of plan lists.
Export to animation in flash format.
Snap to grid when drawing a sketch.
Export of a drill in PDF file format.
Sending a play with e-mail.
Changing of the line color and line thickness.
Add text to a play sketch.
Use of different colors with polygons and ellipses.
Export of play sketches in PNG file format.
Curved movement lines.
Dragging of line points.
Undo and redo on the edit drawing tab.
Auto placement of players when adding a new last sequence.
And more....
After the trial period you can prevent this message from popping up by checking a check box.
More information on registering this product can be found at: