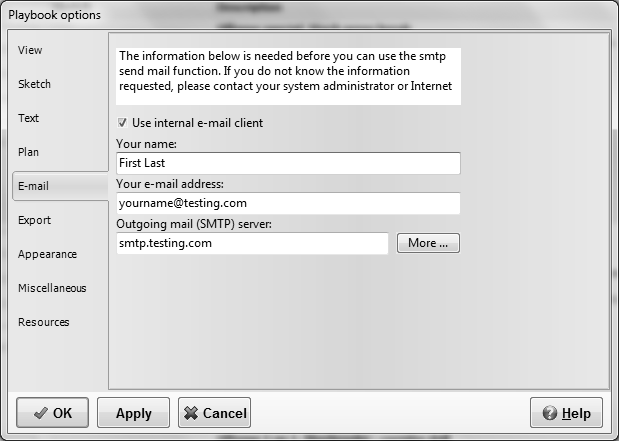 Options - E-Mail
You can choose to use the internal e-mail client by checking the Use internal mail client checkbox.
Before the internal mail client is activated, your mail identity must be correctly filled in.
The name field should be filled with your name or the name of your organization.
The e-mail field should contain a valid e-mail address, for example yourname@yourprovider.not.
The outgoing mail (SMTP) server should contain the smtp address of your provider for example smtp.yourprovider.not; the combination of e-mail address and smtp address is often checked for validation.
If your (SMTP) server requires authentication or uses a different port then go to the SMTP Server Settings by pressing the More button.
If you are on a network connection, there might be a network mail/proxy server, in that case provide the address of this server.
Note that this is basically the same information you would provide in the Internet settings for outlook.
Pressing the OK button will store the changes and bring you back to the main window.
Pressing the Apply button will store your changes.
The Cancel button will bring you back to the main window, no changes will be made.